Warm up with a hot bowl of hearty pesto chicken stew. Carrots sweeten the pot while the potatoes soak up the delicious chicken and pesto broth. This meal is freezer-friendly!
Slow Cooker Pesto Chicken Stew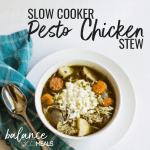 1.5 lb boneless chicken breast
4 cups (1 liter) chicken stock or broth
1 cup (230g) prepared basil pesto (Classico brand)
1 cup (112g) crumbled feta cheese
2 large carrots (chopped)
1 large red onion
6 baby red potatoes
1 teaspoon minced garlic
1 teaspoon ground thyme
½ teaspoon salt
¼ teaspoon ground pepper
Lightly grease the inside of the slow cooker with cooking spray and place boneless chicken breasts along the bottom. Add the prepared basil pesto right on top and use a spoon to spread it over the chicken.
Chop the carrots, red onion, and red potatoes to the size of your liking (chunks allow picky eaters to avoid certain ingredients easily). Toss them right in the slow cooker.
Measure out and add the minced garlic, ground thyme, salt, and ground pepper. Then add the chicken stock. Set to HIGH and cook for 3 hours (5 hours on LOW).
After 3 hours take a fork and see if the chicken falls apart easily. If it does it's ready. Shred the chicken with two forks right in the slow cooker and then serve. Don't forget to add feta cheese crumbles on top for extra flavor! Freeze in large plastic freezer bags for up to 3 months for easy meals later.
Calories: 452, Carbs: 26g, Fat: 25g, Protein: 30g
Let us know in the comments if you enjoyed this recipe!
Interested in learning more about Balance 365'ing your life? Watch our free workshop here on how to reach your goals while living a healthy, balanced life!