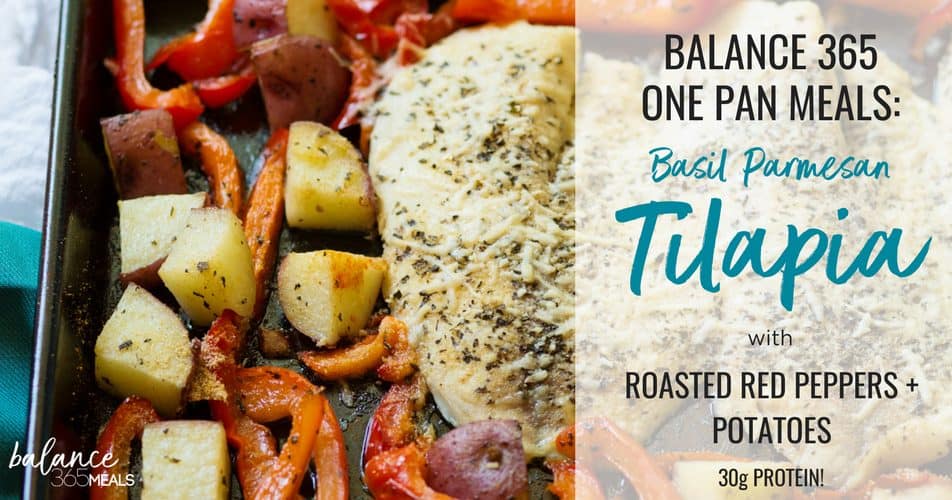 One-sheet pan tilapia filet dinner for the whole family! Roasted veggies are quick to prep and easy to bake. Even a little sweet from the roasted red peppers! Tilapia is affordable but dresses up nice to give you the protein you crave, along with basil and parmesan flavors.
Basil Parmesan Tilapia with Roasted Red Peppers & Potatoes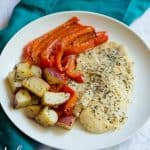 4 tilapia filets (about 4oz./113g each)
2 red peppers (large)
1.5 pounds (680g) red potatoes
¼ cup (60ml) extra virgin olive oil
2 tablespoons (30ml) fresh lemon juice
2 teaspoons dried basil (divided)
2 teaspoons salt (divided)
1 teaspoons garlic powder
¼ cup (60ml) grated parmesan cheese
Preheat the oven to 425º F (220º C).

Slice red peppers into thin long strips and cut the red potatoes into 1-inch cubes. In a large mixing bowl toss potatoes and peppers with half the extra virgin olive oil, half the dried basil, and half the salt. Spread the veggies out onto a large greased sheet pan and roast for 15 minutes.

While the veggies are roasting, prepare the tilapia filets. Lay them out and pat them dry. Pour the last half of the olive oil and lemon juice over the filets and let both sides soak it up. Sprinkle top sides with remaining salt, basil, garlic powder, and parmesan cheese.
Take the red peppers and potatoes out of the oven and push them to the outer edges of the pan leaving enough room for the tilapia. Lay the tilapia filets side by side in the middle of the pan and bake for another 12 minutes or until fish is done.
Carbs: 45g Fat: 18g Protien: 30g
Let us know in the comments if you enjoyed this recipe!
Interested in learning more about Balance 365'ing your life? Watch our free workshop here on how to reach your goals while living a healthy, balanced life!