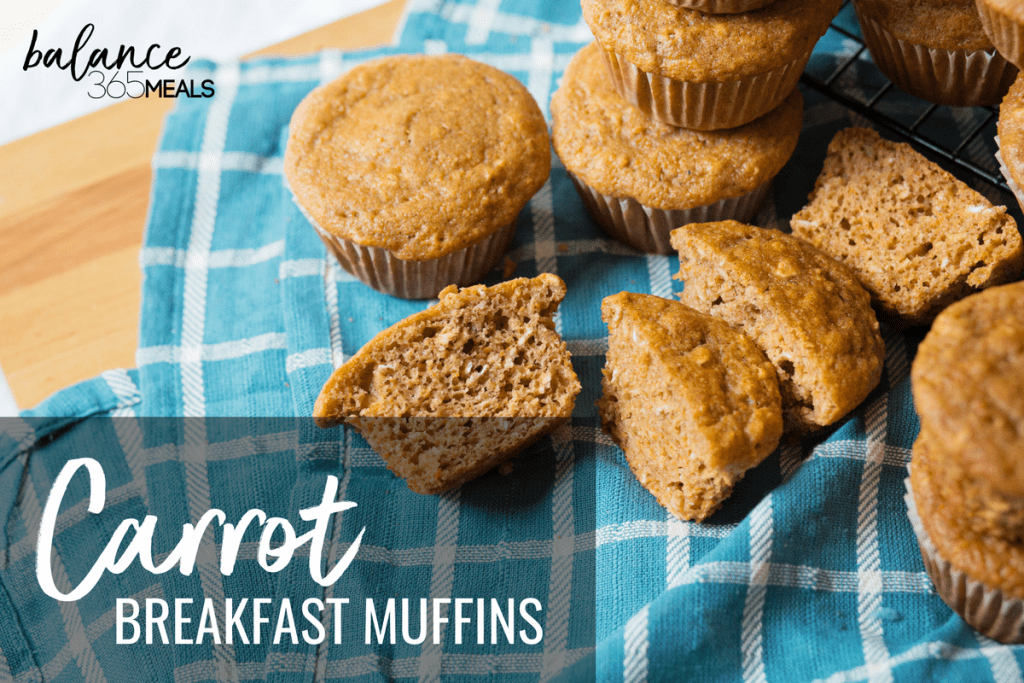 Carrot Breakfast muffins are easy enough for a weekday morning and delicious enough for the whole family. These whole wheat muffins are fluffy and reminiscent of carrot cake. Great for packing your kid's lunch box or eating on the go.
Carrot Breakfast Muffins
Dry Ingredients
1 scoop unflavored whey protein powder (30g)
1 cup whole wheat flour (113g)
½ cup old fashioned rolled oats (52g)
1 teaspoon baking soda
1 teaspoon baking powder
1 teaspoon ground cinnamon
½ teaspoon ground nutmeg
½ teaspoon salt
Wet Ingredients
2 eggs
1 cup non-fat greek yogurt (227g)
½ cup grated carrot (1 large carrot)
½ cup unsweetened applesauce (120ml)
¼ cup coconut oil (60ml)
¼ cup honey (60ml)
2 teaspoons vanilla extract
Preheat oven to 350ºF (180ºC) Place 12 cupcake liners into a 12-count tin.
Add all dry ingredients into a large mixing bowl and whisk to combine. Set aside.
In a small saucepan melt together coconut oil, honey, and vanilla extract over medium heat (about 1 minute). Whisk together then set aside to cool slightly.
Add all wet ingredients to a food processor or blender and process until only tiny carrot chunks are visible. Pour mixture into the large mixing bowl with the dry ingredients and fold gently until just combined.
Spoon batter into the tin and bake for 18-22 minutes or until a toothpick comes out clean when inserted into one of the middle muffins.
Calories: 151 Carbs: 18g Fat: 6g Protein: 7g
Let us know in the comments if you enjoyed this recipe!
Interested in learning more about Balance 365'ing your life? Watch our free workshop here on how to reach your goals while living a healthy, balanced life!