Green bell peppers roasted and stuffed with brown rice and chicken smothered in yummy buffalo hot sauce–meet our delicious Buffalo Chicken Stuffed Peppers. Creamy blue cheese crumbles are melted over the top and the peppers cut through like butter. Everyone gets their own stuffed pepper for supper and leftovers can easily be reheated in the oven. Trade out the green peppers for red bell peppers for added sweetness!
Buffalo Chicken Stuffed Peppers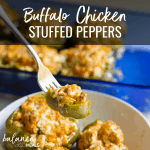 1 ¼ cup dry brown rice
1 tablespoon butter
½ teaspoon salt
4 large green bell peppers
1 rotisserie chicken
¾ cup Frank's buffalo hot sauce
1 cup blue cheese crumbles
Cook brown rice according to package directions adding salt and butter. While the rice cooks preheat oven to 350 degrees.

Slice green bell peppers in half top to bottom. Take out insides and seeds. Lay them inside a large greased baking dish and bake cut side up for 20 minutes.

Pick the meat off a rotisserie chicken and place inside a large mixing bowl while the peppers and rice cook. Pour buffalo hot sauce all over the chicken and add brown rice once it's done. Mix together until combined.

Take a paper towel and absorb any water sitting inside the cooked green bell peppers. Stuff the peppers with the buffalo chicken mixture and bake for 15 minutes.

Remove from oven and top with blue cheese crumbles. Broil on high for 5 minutes then serve!
Calories: 506 Carbs: 30g Fat: 28g Protein: 35g
Let us know in the comments if you enjoyed this recipe!
Interested in learning more about Balance 365'ing your life? Watch our free workshop here on how to reach your goals while living a healthy, balanced life!