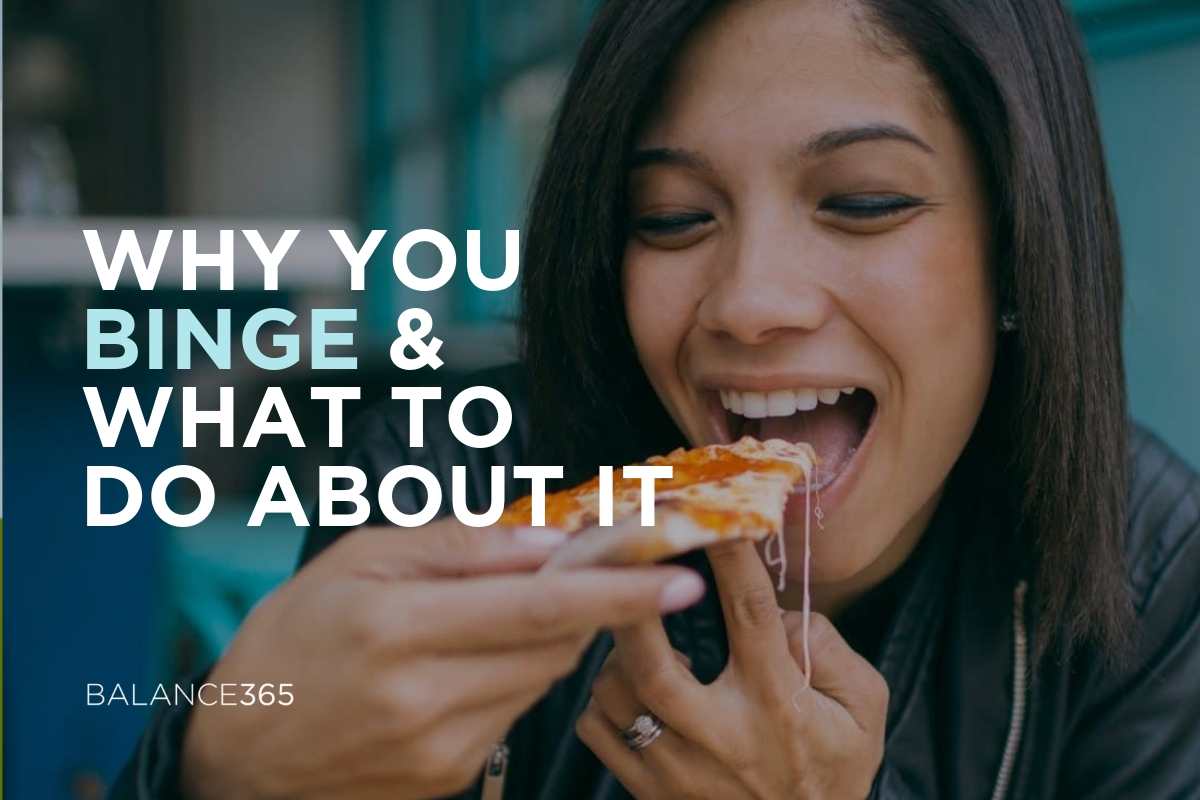 I know all too well the feelings of shame and guilt that come with feeling completely out-of-control around food. I used to be a secret binge eater, a weekend binge eater, a whenever-my latest-diet-failed binge eater. 
My low point came one night when I lied to my roommate about why her ice cream was missing. I told her it had fallen out of the freezer and spilled onto the floor. What had actually happened was I had eaten it all by myself, and didn't want her to know. Physically I felt awful after eating that much ice cream. But mentally and emotionally I felt worse: the guilt and shame from hiding my bingeing was taking its toll.
Since then, I've worked hard on my relationship with food and my body. It's been almost 9 years since I've felt that out-of-control impulse to binge, then hide the evidence. It's also been that long since I've experienced any feelings of food or shame about what I've eaten. I want that freedom for all women. (You can learn how to get that freedom here!)
In a culture that praises food restriction and treats "weight control' as the ultimate success metric in life, of course you will feel ashamed when you overeat or binge. However, bingeing is actually incredibly common, in people of every size. In this article I'm going to discuss why it happens, and what you can do to stop it.
Why do people binge?
People binge for different reasons: restriction, trauma, shame, guilt, stress, sometimes all of these reasons and sometimes for something different. Today I want to stay mostly on the topic of restriction-based bingeing, which is super common! A few disclaimers before we get going: I am not qualified to treat Binge Eating Disorder and this is not intended to replace medical advice. You can learn more about Binge Eating Disorder here. Seeking help from a qualified mental health professional is always something we recommend if you think you have an eating disorder. 
I classify restriction-based bingeing as a binge that happens when someone physically restricts their food, either through intentional or unintentional means. I'm sure many of you are familiar with what this looks like in real life. You start a new diet that severely restricts your calories and/or food choices. The result is that you have to summon all of your willpower to stick with your plan. You're hungry, so you know it's working and you keep going. The first few diets usually last the longest as your willpower is strong. You do well for a week, a month, maybe even 6 months. Along the way your cravings increase and you ultimately find yourself face-first in pizza, ice cream, chocolate, or (insert other delicious and calorie-dense food here).
At first it feels amazing to eat these foods but you're soon filled with shame, guilt, regret, and overwhelming feelings of failure. You may notice that each time you diet or restrict your binges become more frequent, with less time between each one.  You may even get to a point where you've dieted so many times that you can't even think about restricting food or you immediately start fighting an impulse to devour freshly baked chocolate chip cookies, pizza, and french fries!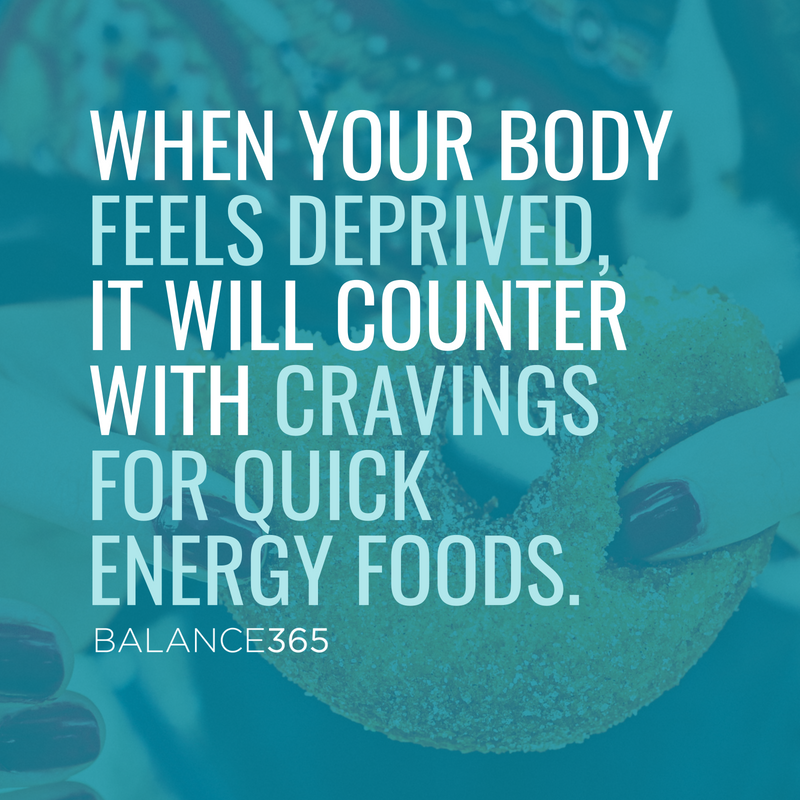 How NOT to overcome binge eating
The most logical response to binge eating is to lay on the shame and guilt, and then restrict again. Whenever I failed at a diet by bingeing, I would continue to eat everything I could get my hands on that had been "off-limits" during the diet. I had already "failed" so why not get all of those impulses out of my system? (While simultaneously telling myself how disgusting I was.) Then Monday would hit and I would start fresh with a new restrictive program. Sound familiar? I followed this cycle too many times to count before I learned a better approach.
Realistic steps to stop binge eating.
Rip up your good foods/bad foods lists
People tend to have all-or-nothing approaches to weight loss and nutrition. In my experience that's a quick way to create an environment that encourages binge eating behavior. There is no wagon to be on or off of. That cookie you had after dinner doesn't mean that the vegetables you ate were any less nutritious, and vice-versa.
When you realize there are no foods that need to be off-limits it takes away that deprivation mindset. Any time you want a particular food, you CAN choose to have it if you want. Once you've truly allowed yourself to eat without guilt, your intense cravings and food preoccupations will lessen.  
When you binge or overeat forgive yourself immediately
You will not stop binge eating completely overnight. The most important thing you can do is to forgive yourself as soon as it happens. Shame and guilt are the feelings that drive this cycle, and will only increase your desire to comfort/numb/binge. You are human. You are going to be imperfect and make mistakes. Self compassion is what will lessen your bingeing, not returning to the same shame/restrict/binge cycle.
Say no to restrictive dieting
Restriction is what drives the impulse to binge. Another diet will never be the answer, and it certainly won't stop the cycle. In fact, a history of yo-yo dieting and restrictive eating is actually a risk factor for developing Binge Eating Disorder.
Make sure you're eating ENOUGH
Binge eating can be as much about physiology as it is about psychology. Your body needs energy to function, and it gets it's energy from the food that you eat. Even if you aren't following a specific diet, it's still important to make sure you're eating enough to sustain you throughout the day. This is what the majority of my days used to look like: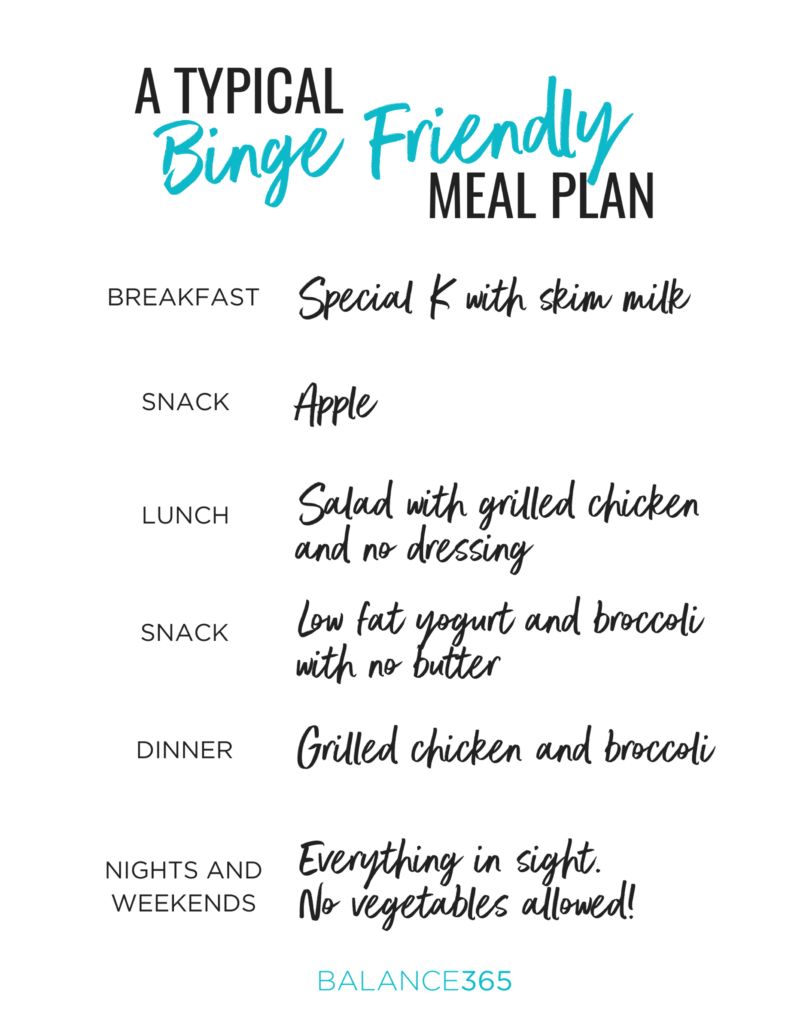 I would eat as little as possible, which was a misguided attempt at weight loss. Your body needs calories to live, and when it isn't getting them it will send stronger and stronger signals for you to find high-calorie foods. Cue food preoccupations, cravings, and uncontrollable eating. We will never win the war on hunger.
Instead, try eating larger, more balanced meals until you feel satisfied. I'm willing to bet that your cravings and uncontrollable urges to eat those cookies lessen dramatically!
Don't underestimate the importance of sleep
Studies have shown that sleep deprivation is linked to excess cravings of less nutritious foods. I find this to be true for myself as well as for our clients. With that said, when you have children sometimes sleep is out of our control! When your baby keeps you up all night please give yourself some compassion and know that this is just one small phase of your life. Prioritize sleep whenever can, and know that's the best you can do right now!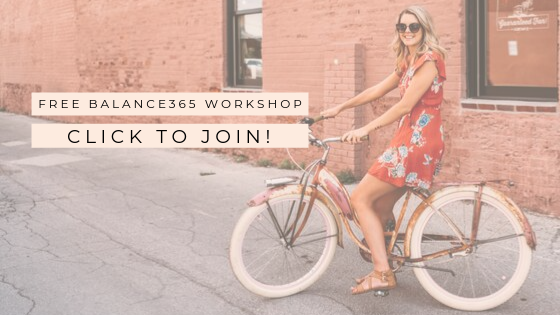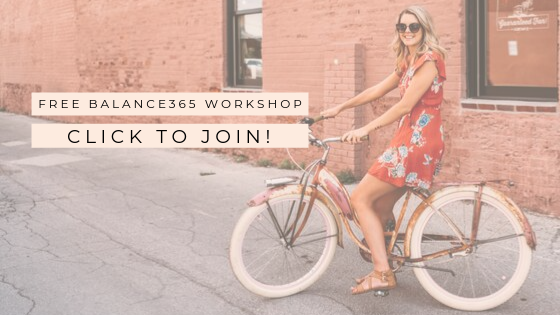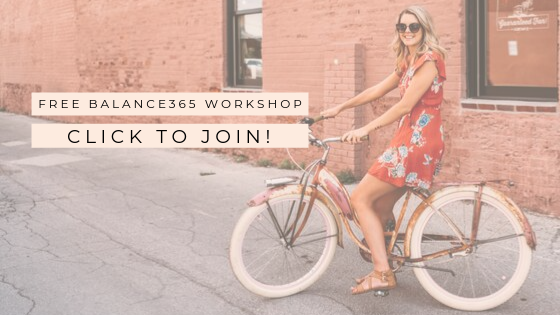 How to work towards your goals without setting yourself up to binge
You know that restrictive dieting leads to binge eating but you still have weight loss goals. Are you doomed? Nope! This doesn't have to be a choice between the restrict/binge cycle or making no changes at all. There is a middle road here and that's what I recommend taking.
Pick one change at a time
If you've been following Balance365 Life for any length of time you know this is what we emphasize over and over again. Changing all of your food, movement, and sleep habits overnight does not work. It seems counter-intuitive, but I promise you that changing one habit at a time will give results FASTER than changing everything tomorrow. Change one habit and focus on that alone until it becomes easy, then pick one more, and so on.
Stop setting outcome-based goals
When we set a goal, it's usually outcome-based. For example: I want to lose 20 pounds, I want to make $10,000, or I want to run a marathon. I challenge you to stop thinking about those outcome-based goals and, instead, focus on the process that needs to happen in order to move forward.
Instead of saying, "I want to lose 20 pounds", it's more beneficial to map out how you're going to lose 20 pounds. Setting yourself a series process-goals gives you something to implement and feel good about right now.  "I will eat a serving of vegetables with each meal" or "I will turn my reading lamp off at 9:30PM every night" are examples of process-based goals. Forget the burden of that weight loss goal, put away the scale for awhile, and give yourself a high-five for the PROCESS of practicing your habits. The outcome will happen, and focusing on the process will be much more enjoyable than impatiently waiting for the result. 
Create a small calorie deficit
In order for weight loss to occur, you need to take in less calories than you burn, however, eat too little and your body will amp up those cravings and signals to eat. The key is to create a small calorie deficit to move towards your weight loss goals. I  don't recommend counting calories long-term because it tends to create that deprivation mindset we're trying to stay away from. There are ways to create a calorie deficit without tracking every food, gram, and calorie. Learn more about that in our free workshop.
Know your non-negotiables
What are the things you don't want to live without? Wine? Cookies? Pizza night? Whatever that is for you, don't try to banish it from your life to lose weight. Chances are that won't last long term. Instead, I recommend figuring out what that is for you, and working it into your fat loss plan! However you decide to lose weight, you'll need to keep those habits going forever in order for your weight loss to be sustained. There's no use in cutting out anything you love. There's room for treats AND healthy weight loss!
Do you struggle with binge eating or overeating? Have you overcome it? Like everything, there's no one-size-fits-all approach. Share you experience with us below!