When you have the time, swap out your weekly pizza delivery with these homemade kid-friendly chicken and veggie pizza pockets! Loaded with roasted veggies and chicken breast, they're tossed in tomato sauce and wrapped in a wheat pizza crust. Your family will enjoy the familiar flavors and learn to love veggies at the same time. You can also batch cook and freeze these for storing in lunches or reheating for dinners later.
Optional: For more variety try switching out the squash for roasted broccoli and mushrooms – still super tasty!
Chicken + Veggie Pizza Pockets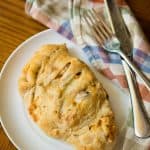 1 pound 1 ball, (453g) wheat pizza dough
1 pound (453g) raw chicken breast
1 medium zucchini
1 medium yellow squash
1 medium spanish onion
1 cup (120g) shredded part-skim mozzarella
¼ cup (60ml) tomato sauce
1 tablespoon extra virgin olive oil
1 teaspoon garlic powder
1 teaspoon dried basil
1 teaspoon dried oregano
½ teaspoon salt
¼ teaspoon ground black pepper
Preheat oven to 425°F (220°C).

Remove pizza dough from refrigerator and set on the counter to take the chill off.

Chop off ends of the zucchini and squash and then quarter lengthwise. Slice into roughly ¼ inch thick slices. Chop onion into long thin strips and put all veggies into a large mixing bowl. Set aside.

Cut the raw chicken breast into 1-inch cubes and add to the mixing bowl with the veggies. Toss together with olive oil, garlic powder, dried basil, dried oregano, salt, and pepper.

On a lightly greased rimmed sheet pan dump out the contents of the mixing bowl and spread out evenly. Bake for 20 minutes.
Remove pan from oven and increase temperature to 450 degrees.

Immediately transfer chicken and veggies to a clean large mixing bowl with a slotted spoon (you don't want to add the drippings). Toss with ¼ cup tomato sauce and set aside.

On a clean surface cut dough into 4 equal parts. Using your fingers, gently press into flat circles roughly 7 inches wide. Using a slotted spoon divide the chicken and veggies equally onto each circle. Add ¼ cup shredded mozzarella right on top of each. Carefully fold over the dough creating a semi circle shaped pizza pocket and pinch the edges shut. Slit the tops a couple times to let steam escape.

Transfer pizza pockets to a parchment lined baking sheet and set on the lowest oven rack. Bake for 12 minutes or until top is golden brown.
Optional: For more variety try switching out the squash for roasted broccoli and mushrooms – still super tasty!
    Carbs: 59g
   Fat:  16g
     Protein:  40g
Interested in learning more about Balance 365'ing your life? Watch our free workshop here on how to reach your goals while living a healthy, balanced life!
Let us know in the comments if you enjoyed this recipe!